Z Blade Sigma Mixer

Z blade Sigma Mixer Description
Z-Blade Mixers. Heavy duty Z mixers for tough products. Suitable for bubble gum and chewing gum masses, the mixers will also mix many other stiff products. The mixers are jacketed and have their own self contained heating system. Complete with tilt.
Z blade Sigma Mixer Operation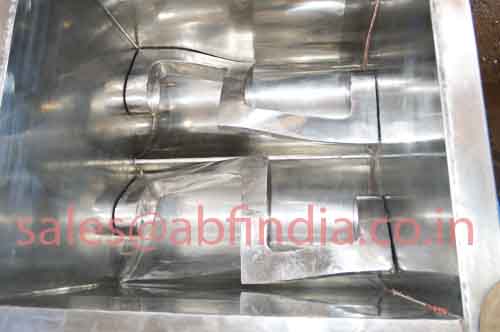 Models available: 150kg, 350kg, 500kg and 1000kg capacities. All Z-Blade Mixers are suitable for gum and heavy paste-type products. Jacketed machine with power tilting. For hot water or low pressure steam. Internal construction from stainless steel.
| | | | |
| --- | --- | --- | --- |
| Details | ZB 5 | ZB 150 | ZB 500 |
| Litre Capacity | 5 kl | 150 l | 500 kl |
| Blades Fast Speed RPM | 60 | 45 | 42 |
| Blades Slow Speed RPM | 40 | 25 | 26 |
| Max MPa Steam Pressure | 0.15 | 0.3 | 0.3 |
| Water Heating KW | | 3.6 | 7.2 |
| Blade motor KW | 1.1 | 18.5 | 22 |
| Tilt Motor KW | | 1.1 | 1.5 |
| Internal Mixer Sizes | 180 mm L x 200 mm W x 140~170 mm D | 660mm L x 530mm W x 390~490mm D | 840 mm L x 960 mm D x 650~850 mm D |
| Sizes | 1200 mm x 420 mm x 380 mm high | 2350 mm x 880 mm x 1200 mm high | 2600 mm x 2200 mm x 2150 mm high |