Limpet Coil Reactor Vessel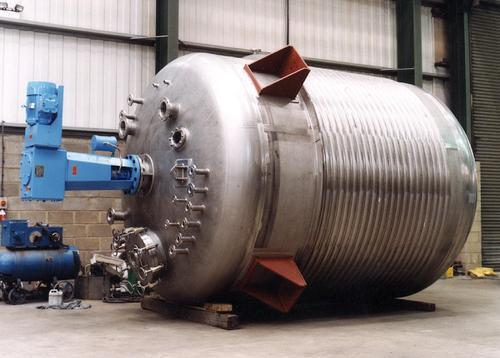 Limpet Coil Reactor Description
Limpet coil reactor vessels are used to control the temperature of the reactants with the help of heating or cooling media circulated through coils surrounding the main vessel. Ideally suitable for medium heat transfer requirement and heating application where heating media temperature is above 150 Centigrade (302 Fahrenheit). Coils are half piped welded on the outer side of the main vessel.
Limpet Reactor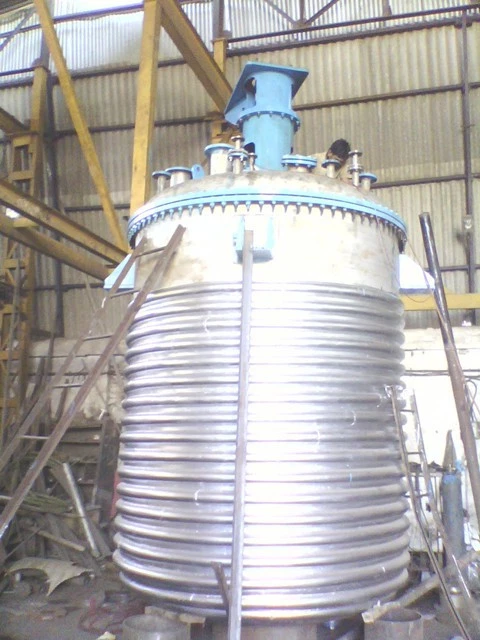 Stainless Steel Reactor for API, Chemical & Pharma
Stainless Steel Chemical Reactor with process demand by customer as per we fabricate Jacketed vessel, limpet coil reactor, dimple type reactor, high pressure reactor for chemical processing or chemical process reactor , Reactor with Mechanical seal , Reactor with Limper Coil , Reactor with Jacket Stainless Steel, reactor for pharmaceutical, agricultural, fertilizer, petrochemical, and power industries which commonly use salts, acids and other chemicals .
We offered separately for valves, fittings, pipe and automation as per customer demand / requirement.
Our reactor vessel shall be fabricated as per cGMP guide line with Different types of agitator design.
Our stainless steel reactor vessel offer Registered with leading consultants and third party inspection agency / FAT.
Reactor with Jacket and Limpet type of rector will be designed for cooling and heating during exothermic or endothermic reactions.
Stainless Steel Reactor with GMP Standard range of Equipments manufacturing for Pharmaceutical industry. With special mirror finish from 220 grit to 440 grit, proper smooth welding all angles and line, flush grinding and Insulation with mirror finished S.S cladding.
Stainless Steel Reactor or Industrial Reactor with direct drive design for the agitator , with variable drive – VFD option to vary the RPM of the drive as per customer needed .
Reactor for API, Suitable for resins, adhesives, paint, cosmetics, reactor for pharma and other chemical production. Reactor with Stirring, mixing, heating, cooling, pumping vacuum, so that the material to react, polymerization. Stainless Steel Chemical Reactor and Reaction kettle is generally composed of a kettle body, a driving device, a stirring device, heating device, a cooling device, and a sealing device.
Capacity : 500 LITRES TO 40KL Reactor with Bottom Entry Agitator, Reactor with Cooling Coil ,Jacketed Reactor / Insulation / SS Cladded Reactors , Reactor with Limpet and Jacket , Limpet Reactor , SS 316 – Reactor with Double Mechanical Seal and Stainless steel pressure vessels or reactors to meet our customer's application with requirements as per ASME Code stainless steel reactor design and stainless steel reactor vessel.
LIMPET COIL REACTION VESEEL
We are engaged in manufacturing quality range of Reaction Vessels in which chemical reaction takes place. Reaction Vessels are commonly used in Pharmaceutical, Chemical, Resin, Petrochemical, Adhesives, Dyes and Paint Industries. We offer high quality reaction vessel in different capacities ranging from 50 liters to 50,000 liters, Pressure Range : 10 to 20 kg/cm/g and Temp. Range up to 200 ºC
Material of Constructions
Various materials of construction, such as M.S, Alloy Steel, SS 304, SS 316, SS 316L,Duplex, Rubber Lined etc, can be offered as per requirement.
.
Salient Features:
As per ASME,ASTM,TEMA DIN, BIS, IS, API, and C-GMP

Radiography Welding Quality done Qualified Welders.

High quality mirror finish

MS/SS Jacket or limpet coil for steam heating, cooling

Shaft entry sealed by oil seal, plain or water-cooled stuffing box, single or double mechanical seal

High-density glass wool insulation & SS cladding can be done on demand.
Types of Stirrers
Anchor

Pitch Blade Turbine

Propeller

Hydrofoil

High Speed Homogenizer
Limpet Coil Reaction Vessel consist of a Cylindrical vertical shell with standard torispherical dish on both ends.
A Limpet Half Pipe is provided on the Outside of the shell & on the dish for Heating the reactor by passing steam or thermic Oil. or Cooling the reactor by passing cooling media. .
Agitator assembly mounted on the Top dish of Reactor consists of Shaft supported by Lantern Assembly on the Top End containing Bearing Housing with Tapered roller bearing and Ball bearing to withstand impact load and vibratory load ensuring smooth rotation of the Shaft. Water cooled Stuffing box filled with gland rope pressed by Gland pusher is also provided.
On the other end of the shaft Blade is fitted of different types as per the need of the Process viz. Single Anchor, Double Anchor, Gate, Paddle, Flat or Curved Turbine & Propeller types. Baffles are also provided inside the shell as per the requirement.
Top Dish of the Reactor is provided with various Nozzles viz. Manhole, Light Glass, Sight glass, Vapour, Addition, Reflux, Thermowell etc.
Bottom Dish of the Reactor is provided with an Outlet nozzle where valve is fitted.
The drive is designed to give maintenance and trouble free performance. The Agitator Shaft is coupled to the Reduction Gear Box with Flexible coupling. The Reduction Gear Box is mounted on the Top of the Lantern Assembly and is driven by Motor using V belt pulley. Variator or AC drive can by used to get variable speed of the Agitator if desired.
Four lugs support are provided on the Shell of the reactor to mount it on the Platform of the Factory. Platform can also be prefabricated and assembled at site.
Welding work is performed by Argon Arc process using Good Characteristic Filler rods on all S. S. Parts. M.S. Parts welding is performed by D. C Arc welding process using suitable electrodes of Advani Oerlikon make.
All weld joints will be finished from inside and outside, S S. Parts is cleaned from inside and outside. Two coats of primer / red oxide will be given on M.S. parts from outside.
Equipments are tested Hydraulically as per design Pressure